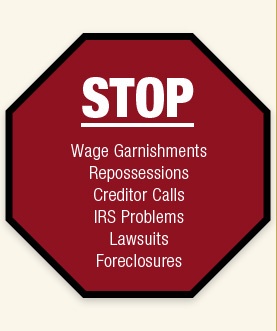 Do you have creditors calling you at work or at other inconvenient times? Are you afraid of being sued or having your creditors take your home or personal property? Is the stress from not being able to pay your debts keeping you awake at night or effecting your relationship with your family?
Let us help you alleviate your concerns by giving you the facts about bankruptcy. We have served hundreds of clients in the area of bankruptcy and have one of the highest rates of success in taking our clients through the bankruptcy process.
It is quite common these days for some to use the services of a non-attorney who "can not give you legal advice". We see these individuals at their creditors meeting in a state of confusion because they do not have an attorney.  We also see those same individuals losing their valuable property which could otherwise have been protected if they had the assistance of an attorney who really understands the process.
When you use our firm you will meet personally with an attorney, not a paralegal or non-attorney.  Our firm has extensive legal and financial expertise that enable us to give our clients the very best advice concerning their bankruptcy.
As an alternative to bankruptcy, we also negotiate with creditors to reduce our client's debt. Our firm recently negotiated a 60% reduction in one client's overall debts. Though individual circumstances may vary we strive to do what is best for each client. Our office and staff are very thorough and will make whichever process you choose as painless as possible.